Ref:
Date:
Location:
Photographer:
[clikcontent type=paymentBuyLink replaceable=true]
Ref:
Date:
Location:
Photographer:
[clikcontent type=paymentBuyLink replaceable=true]
Thoughts on digital Photography
15.02.12
Some years ago I bought a Voigtländer Bessa R2 because I wanted to have a better camera for shooting film. It was 2003 and at that time I did not consider digital cameras as an alternative. But as often happened with film, I did not shoot very much, because of the costs to reveal and copy the photos.
After some time I then started to shoot with digital cameras, first with compact cameras and then with a DSLR. But in this article I do not want to write about the cameras and my use of them, but I want to share some of my thoughts and experiences so far. Some of them are partly indicated in the other articles I have written on the website. But with the time spend with photography, I do also spend time thinking and search for understanding.
Digital photography opens quite a lot of new possibilities. When I entered the more serious photography, I soon discovered it was not only a question about a camera and lenses. Step by step I did also invest in a new computer, in a better monitor, in a good printer and many other things. But although all the hardware and gear is important and I am planing also to write about my computer system and working process, this article shall be about photography.
Some philosophical considerations
The camera is to consider as a tool on the way to make a photography, I do agree on this of course. But what is a photography? It is a still of something that is not moving or moving. It shows somehow reality but is not reality. I said it like that, because we do not see with our eyes in still, but in a continuing movement. Of course we can choose to focus only on one spot. But what we see will not freeze like a photography. What is moving will keep on moving although our gaze is fixed.
And yet we do perceive a photography as a still of reality even though it is shot in monochrome. Depending on the scene we can in our imagination "see" something happening before or after the shot was taken. It activates us in some way.
The human eye is a much better instrument than a camera or lens will ever be to see the reality. Yet because of the lenses a photography can add to our perception true the wider angel or zoom or whatever we choose to use. In that sense the photography can widen our perception of reality or put things in a new perspective. It can help us to widen our understanding of our world.
And thanks to photography we have the possibility to see places, things, whatever where we never will come in our life. Even other planets where we maybe never will get as human beings. Since years I have for instance followed the satellite Cassini's trip in the Saturn system and I am impressed what the cameras has allowed me to see from this faraway world.
But through the understanding of how to use the camera, the photography can be moved closer to the border of painting, f.i. by using long exposures or panning. I have written about these two methods in other articles.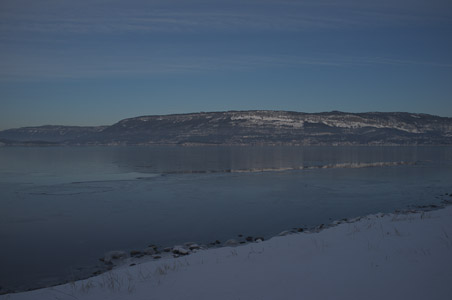 The digital photography
At this moment the industry is very often using the film-paradigma to design digital cameras. But I guess this is only a transitory phase. In the future the cameras are likely to look lees like film cameras, although some of the brands have at the moment quite a success making nostalgic looking designs. The difference between film and digital is not just the sensor instead of film.
Fuji has for instance made emulations of their classic films, so that the output from their cameras can emulate them. But does this make sense for digital photography? Should it not be of is own right? Of course it is nothing against to give a digital photography a similar look as the analog images. At the moment this is popular. There is a lot of software out there now that makes it possible to emulate whatever was ever produced with film.
First example from my work
When I work with my photos, all shot in RAW, I first zero all the settings in LightRoom, so that I can start from "scratch" in the process. I want the photos to be mine in any sense. So I have selected a shot I made a couple of days ago showing a lake and a hill side behind. The weather was fairly good, but the temperature was -8 Centigrade. So there is ice on the lake. The shot is done with the Fujifilm Finepix X100.
The first image shows the zeroed RAW-file … it does not look quite good, but this is the way the camera actually "sees" the scene. It will always be the processing that gives the result. Many are negative to postprocess photos, but I do not understand why. I think this is one of the great things with digital photography that we have got the freedom do to it also in colors. In Black & White photography it has been done a long time. Now we decide ourselves how a photo shall turn out, not a lab.
The second image shows the same photo processed in the camera with the Velvia setting. No other processing done to it. This is what the makers of the camera have done to the photo. But it is not mine still. Therefore I have not bothered here to brighten it or doing anything else to it. It is just plain out of the camera.
The third image then shows the same photo, but this time postprocessed in my normal workflow at this moment of life.
The last image of the series had more or less undergone the same process of postprocessing as the third one, but this time it is a bracketed photo of three exposures where the two others has a EV of 2/3 less or 2/3 more than the original exposure.
In my view the fourth is showing the scene in the best way as I perceived it. I say perceive, because to me photography it is not only about seeing a scene, but also feeling a scene. How can a photography be such that a other person can not only see, what I saw trough the viewfinder but also grasp the emotional movement the scene produced?
So what is then "reality"? I think it is a photo that does somehow affect the viewer is in its own right. If it moved me, will it then move something in a other person? Yes, I think so, although I can not know what it will be. I only have to be as sincere as possible with myself while shooting and processing, remembering the emotions, the light and colors.
But I don't like photos where colors are changed or maybe the landscape has got a different sky to look better. Today "everything" is possible through postprocessing, but not all do convince me. I like to get the colors and light to "pop" better out in the photo through a understanding how we are perceiving them, but not by changing them.
Second example from my work
The fifth photo is taken a couple of years ago with the Sigma SD14. It shows a different way of postprocessing to achieve an emotion of the viewer. I shot the leaf in the autumn. Of course the colors are interesting and I could have let it be in colors. But then I considered how to let one leaf pop out and be the scene.
I decided to go for black & white. The sixth photo shows it converted and cropped.
Then in the seventh, I have used the techniques of dodging and burning to make the leaf "pop" out, be more visible to the viewer. The leaf was brightened up, while the rest was darkened through the use of filters in LightRoom.
In this kind of processing it is important to how some knowledge about painting and art. I often do use filters to darken or brighten parts of photos to make the photo stronger and to lead the eye to the important parts of the scene. I try to do it in a way that is subtil.
Final thoughts
To me a photography is finalized when it is printed. Sometimes I will have to do a couple of prints if I discover that something is wrong. To look at the photography on the screen is not sufficient. It is of course the working space for the post processing, but because of the low resolution of the screen, it does not show how the photography really is. Also the color space is better in the print. Every now and then I am surprised how good the photo turns out to be when printed.
I think it is one of the greatest thing that has happened to (color) photography, that I can control the whole process from shooting the photo to the final print. It has for me become much more of an art than before.
1st version, 15th of February 2012